Hero at the Fall by Alwyn Hamilton (#3 Rebel of the Sands)
Fantasy/Young Adult/Romance
Once, in the desert country of Miraji, there was a Sultan without an heir.
The heir had been killed by his own brother, the treacherous Rebel Prince, who was consumed by jealousy and sought the throne for himself.
Or so it was said by some. There were others who said that the Rebel Prince was not a traitor but a hero…
In the final battle for the throne, Amani must fight for everything she believes in, but with the rebellion in pieces, and the Sultan's armies advancing across the desert plains, who will lead, who will triumph, who will live and who will die?

The Silent Companions by Laura Purcell
Horror/Historical Fiction/Gothic/Mystery/Paranormal/Fantasy/Adult
Newly married, newly widowed Elsie is sent to see out her pregnancy at her late husband's crumbling country estate, The Bridge.
With her new servants resentful and the local villagers actively hostile, Elsie only has her husband's awkward cousin for company. Or so she thinks. But inside her new home lies a locked room, and beyond that door lies a two-hundred-year-old diary and a deeply unsettling painted wooden figure – a Silent Companion – that bears a striking resemblance to Elsie herself..
The Wise Man's Fear by Patrick Rothfuss (#2 The Kingkiller Chronicle)
Fantasy/Epic Fantasy/High Fantasy/Magic/Adventure/Adult
My name is Kvothe.
I have stolen princesses back from sleeping barrow kings. I burned down the town of Trebon. I have spent the night with Felurian and left with both my sanity and my life. I was expelled from the University at a younger age than most people are allowed in. I tread paths by moonlight that others fear to speak of during day. I have talked to Gods, loved women, and written songs that make the minstrels weep.
You may have heard of me.
So begins the tale of a hero told from his own point of view — a story unequaled in fantasy literature. Now in The Wise Man's Fear, an escalating rivalry with a powerful member of the nobility forces Kvothe to leave the University and seek his fortune abroad. Adrift, penniless, and alone, he travels to Vintas, where he quickly becomes entangled in the politics of courtly society. While attempting to curry favor with a powerful noble, Kvothe uncovers an assassination attempt, comes into conflict with a rival arcanist, and leads a group of mercenaries into the wild, in an attempt to solve the mystery of who (or what) is waylaying travelers on the King's Road.
All the while, Kvothe searches for answers, attempting to uncover the truth about the mysterious Amyr, the Chandrian, and the death of his parents. Along the way, Kvothe is put on trial by the legendary Adem mercenaries, is forced to reclaim the honor of the Edema Ruh, and travels into the Fae realm. There he meets Felurian, the faerie woman no man can resist, and who no man has ever survived … until Kvothe.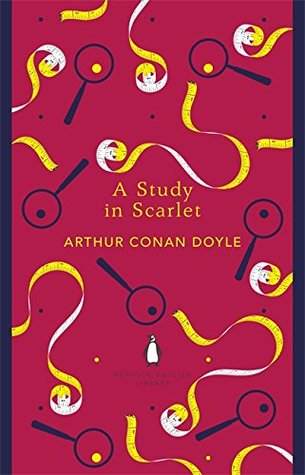 A Study in Scarlet by Arthur Conan Doyle (#1 Sherlock Holmes)
Classics/Mystery/Crime/Adult
When Dr John Watson takes rooms in Baker Street with amateur detective Sherlock Holmes, he has no idea that he is about to enter a shadowy world of criminality and violence. Accompanying Holmes to an ill-omened house in south London, Watson is startled to find a dead man whose face is contorted in a rictus of horror. There is no mark of violence on the body yet a single word is written on the wall in blood. Dr Watson is as baffled as the police, but Holmes's brilliant analytical skills soon uncover a trail of murder, revenge and lost love . . .

The Hound of the Baskervilles by Arthur Conan Doyle (#5 Sherlock Holmes)
Classics/Mystery/Crime/Adult
The terrible spectacle of the beast, the fog of the moor, the discovery of a body: this classic horror story pits detective against dog, rationalism against the supernatural, good against evil. When Sir Charles Baskerville is found dead on the wild Devon moorland with the footprints of a giant hound nearby, the blame is placed on a family curse. It is left to Sherlock Holmes and Doctor Watson to solve the mystery of the legend of the phantom hound before Sir Charles' heir comes to an equally gruesome end. The Hound of the Baskervilles gripped readers when it was first serialised and has continued to hold its place in the popular imagination.

The Valley of Fear by Arthur Conan Doyle (#7 Sherlock Holmes)
Classics/Mystery/Crime/Adult
The deadly hand of Professor Moriarty once more reaches out to commit a vile and ingenious crime, but a mole in Moriarty's criminal organization alerts Sherlock Holmes of the evil deed by means of a cipher . . .
When Holmes and Watson arrive at a Sussex manor house they appear to be too late. The discovery of a body suggests that Moriarty's henchmen have been at their work. But there is much more to this tale of murder than at first meets the eye.

Kingdom of Ash by Sarah J. Maas (#7 Throne of Glass)
Fantasy/New Adult/Romance
Aelin has risked everything to save her people―but at a tremendous cost. Locked within an iron coffin by the Queen of the Fae, Aelin must draw upon her fiery will as she endures months of torture. Aware that yielding to Maeve will doom those she loves keeps her from breaking, though her resolve begins to unravel with each passing day…
With Aelin captured, Aedion and Lysandra remain the last line of defense to protect Terrasen from utter destruction. Yet they soon realize that the many allies they've gathered to battle Erawan's hordes might not be enough to save them. Scattered across the continent and racing against time, Chaol, Manon, and Dorian are forced to forge their own paths to meet their fates. Hanging in the balance is any hope of salvation―and a better world.
And across the sea, his companions unwavering beside him, Rowan hunts to find his captured wife and queen―before she is lost to him forever.
As the threads of fate weave together at last, all must fight, if they are to have a chance at a future. Some bonds will grow even deeper, while others will be severed forever in the explosive final chapter of the Throne of Glass series.
A Discovery of Witches by Deborah Harkness (#1 All Souls Trilogy)
Fantasy/Paranormal/Romance/Vampires/Witches/Adult
In this tale of passion and obsession, Diana Bishop, a young scholar and a descendant of witches, discovers a long-lost and enchanted alchemical manuscript, Ashmole 782, deep in Oxford's Bodleian Library. Its reappearance summons a fantastical underworld, which she navigates with her leading man, vampire geneticist Matthew Clairmont.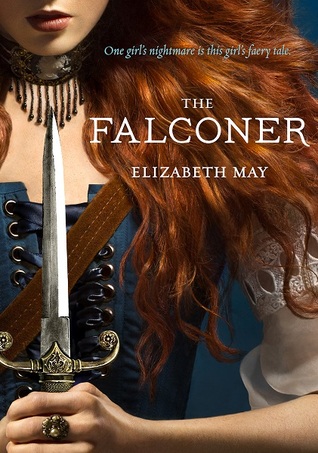 The Falconer by Elizabeth May (#1 The Falconer)
Fantasy/Young Adult/Science Fiction/Steampunk/Historical Fiction/Paranormal/Fairies/Fae
One girl's nightmare is this girl's faery tale
She's a stunner.
Edinburgh, 1844. Eighteen-year-old Lady Aileana Kameron, the only daughter of the Marquess of Douglas, has everything a girl could dream of: brains, charm, wealth, a title—and drop-dead beauty.
She's a liar.
But Aileana only looks the part of an aristocratic young lady. she's leading a double life: She has a rare ability to sense the sìthíchean—the faery race obsessed with slaughtering humans—and, with the aid of a mysterious mentor, has spent the year since her mother died learning how to kill them.
She's a murderer.
Now Aileana is dedicated to slaying the fae before they take innocent lives. With her knack for inventing ingenious tools and weapons—from flying machines to detonators to lightning pistols—ruthless Aileana has one goal: Destroy the faery who destroyed her mother.
She's a Falconer.
The last in a line of female warriors born with a gift for hunting and killing the fae, Aileana is the sole hope of preventing a powerful faery population from massacring all of humanity. Suddenly, her quest is a lot more complicated. She still longs to avenge her mother's murder—but she'll have to save the world first.

The Vanishing Throne by Elizabeth May (#2 The Falconer)
Fantasy/Young Adult/Science Fiction/Steampunk/Historical Fiction/Fairies/Fae/Romance
Everything she loved is gone.
Trapped. Aileana Kameron, the Falconer, disappeared through the fae portal she was trying to close forever. Now she wakes in an alien world of mirrors, magic, and deception—a prisoner of the evil fae Lonnrach, who has a desperate and deadly plan for his new captive.
Tortured. Time after agonizing time Lonnrach steals Aileana's memories, searching for knowledge to save his world. Just when she's about to lose all hope, Aileana is rescued by an unexpected ally and returns home, only to confront a terrifying truth. The city of Edinburgh is now an unrecognizable wasteland. And Aileana knows the devastation is all her fault.
Transformed. The few human survivors are living in an underground colony, in an uneasy truce with a remnant of the fae. It is a fragile alliance, but an even greater danger awaits: the human and fae worlds may disappear forever. Only Aileana can save both worlds, but in order to do so she must awaken her latent Falconer powers. And the price of doing so might be her life…